Tiny home builder and resident spread word about new homes
April 06, 2023
AT A GLANCE
Marcel Lebrun aims to lift people out of poverty with a new and one-of-a-kind micro-home community in New Brunswick.
The 12 Neighbours micro-home community will offer more than a roof to those experiencing homelessness in Fredericton. It offers community connection, personal development and employment.
12 Neighbours resident, community employee and "mayor" Al Smith is sharing his own journey to help lift others out of poverty.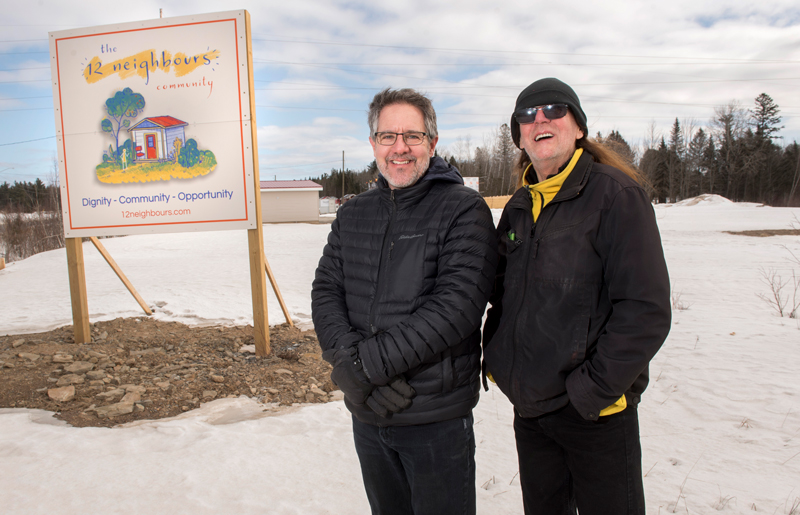 Marcel Lebrun wants to create more than housing. He wants to build a community that provides opportunity, dignity, and a sense of pride.
"Dignity is a code word to invest in people," he explains. "To help them see that they are more than the world has led them to believe they are."
"I've always had an interest in social responsibility and in making my community a better place," says Marcel Lebrun, creator of Fredericton's 12 Neighbours development.
Known across the Maritime provinces as a successful tech executive and entrepreneur, in 2015, Marcel Lebrun turned his attention to poverty reduction and the region's affordable housing crisis.
Marcel travelled around North America researching the best models to help people find their way out of poverty. He also volunteered in and visited low-income neighbourhoods to ask people what they need.
His research led him to tiny homes, and an overall focus on development, rather than relief.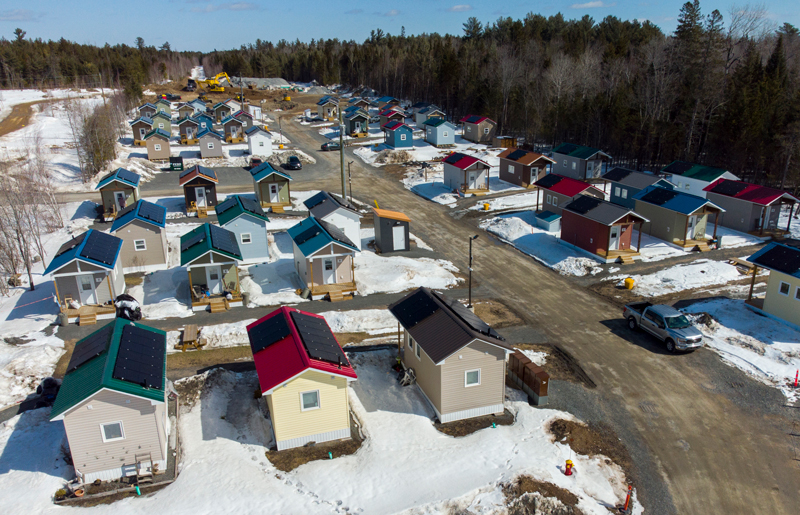 Designing for dignity, community and opportunity
When complete, the 12 Neighbours community at Two Nations Crossing will include 96 homes arranged in eight neighbourhood blocks. Each home will include a full kitchen, 3-piece bathroom, living space with cathedral ceilings, storage space and a private yard.
Dignity is a code word to invest in people. To help them see that they are more than the world has led them to believe they are.
The 12 Neighbours model also incorporates a 3-part poverty reduction strategy: investing in permanent housing; personal development and progressive employment.
The 12 Neighbours social enterprise center will include a café and retail store, providing residents with an opportunity to work on-site. A construction space will provide residents with hands-on training in the trades and an opportunity to be directly involved in the construction of their own homes. Training and employment in various aspects of the food and retail industries and entrepreneurship will also be available.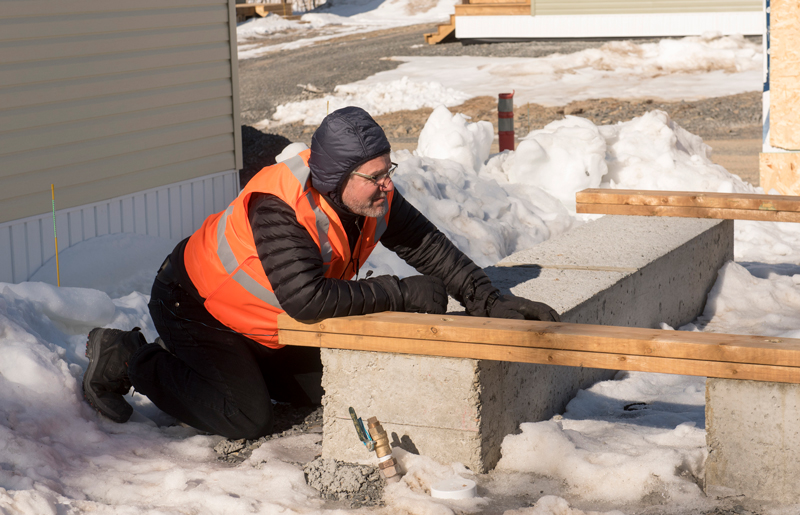 Community "mayor" finds his voice
With 40 homes complete, some residents have already moved in, including Al Smith and his fiancée Chanda. Just 1 year ago, the couple was living in a tent in the woods on the outskirts of Fredericton. Now, they have a permanent home and Al works in the 12 Neighbours Print Lab as head of production and quality control.
Since arriving at 12 Neighbours, Al has helped to spread the good news about the project and has also become the community "mayor."
He made it so that I wasn't invisible anymore. When I see Marcel, I get a big smile on my face. He's a big inspiration.
Articulate and humble, Al clears the air and immediately shares that he has never done any drugs or alcohol. But, he and his fiancée Chanda have been through a lot and getting into 12 Neighbours was important to them.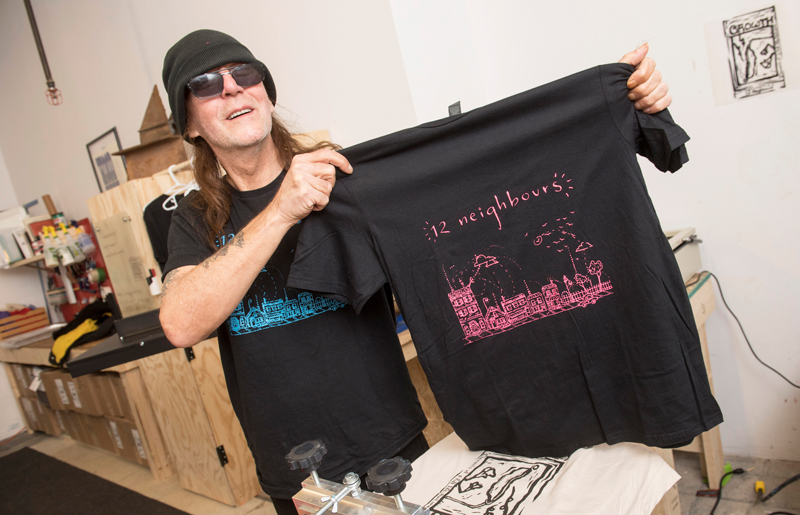 Initially, they did not want to invest emotionally in the community. They resisted hanging pictures on the walls in case something fell through. One year later, the couple has settled into their home and Al feels reassured that if something ever happened to him, Chanda would be safe, surrounded by a supportive community.
Al connected with Marcel as soon as he arrived, extending his hand and purposefully introducing himself. They quickly developed a mutual respect and understanding, leading Al to share his 12 Neighbours experience with others.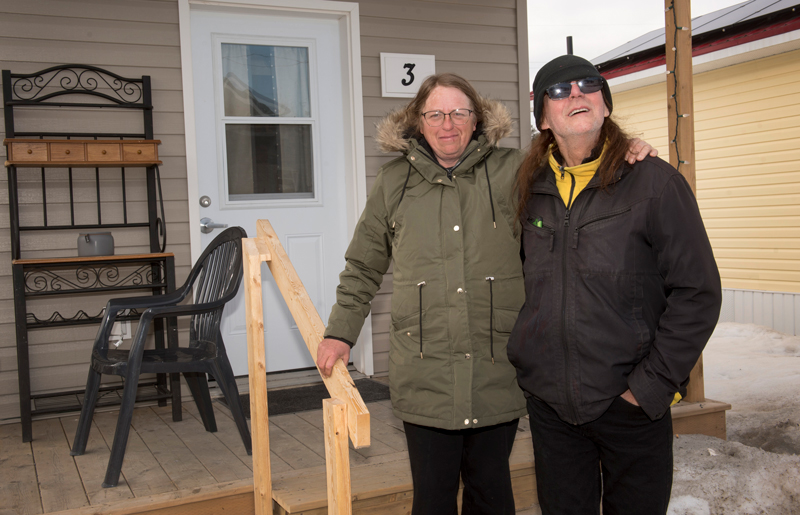 Al has met politicians, delivered speeches and personalized the 12 Neighbours experience. Touchingly, Al turns all his appreciation to Marcel.
"He made it so that I wasn't invisible anymore," says Al, adding, "When I see Marcel, I get a big smile on my face. He's a big inspiration."
As the project moves toward completion, Marcel looks forward to welcoming more residents to the community and providing a safe space where people can grow, heal, and look forward to a brighter future.
As for Al, when asked about what's ahead, he happily responds, "My future is all 12 Neighbours!"
KEY FACTS
12 Neighbours received funding from the CMHC and New Brunswick Bilateral Agreement under the National Housing Strategy.
The project was also supported through the National Housing Co-Investment Fund. This National Housing Strategy initiative supports projects that target the needs of vulnerable Canadians, including single mothers, Indigenous Peoples, persons with a disability, Veterans, seniors and recent immigrants, with approximately one-third of the new homes dedicated to Black families.
12 Neighbours inc. is a non-profit organization. The Lebrun Family Foundation provided $2 million in seed funding for the 12 Neighbours development.