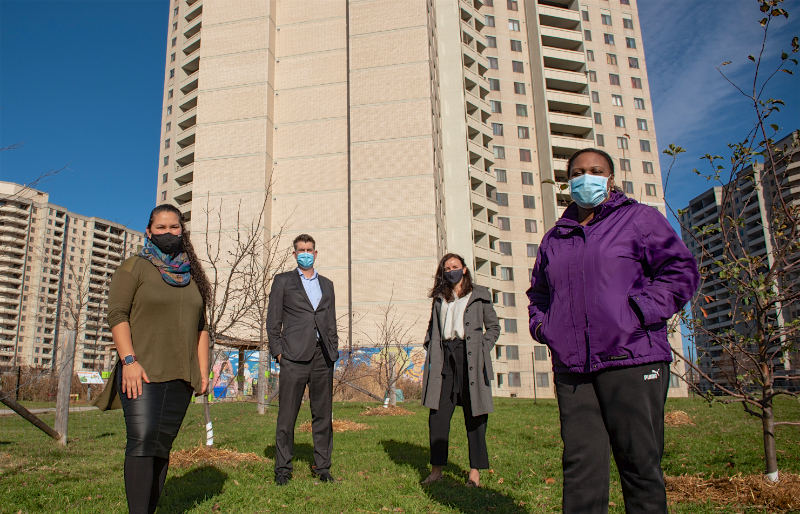 The rehabilitation of the San Romanoway Towers has created a place residents are proud to call home.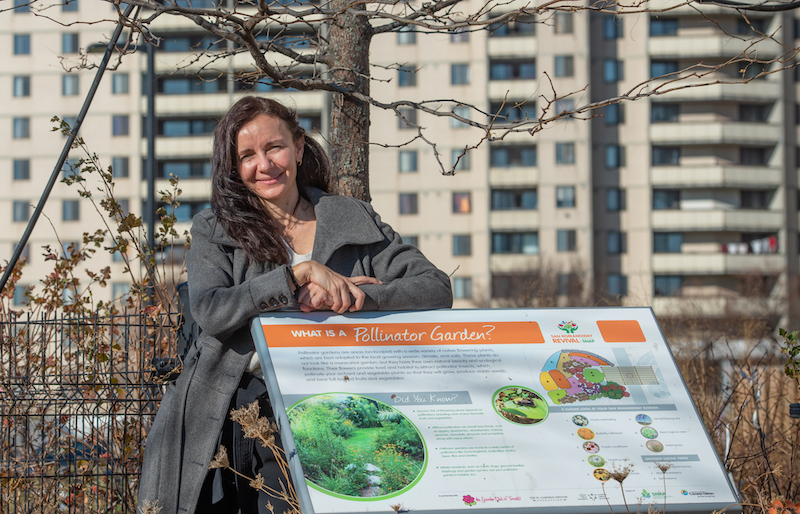 Senior program manager with TRCA Adriana Gomez says San Romanoway was the ideal site for rehabilitation under the Sustainable Neighbourhood Action Program (SNAP).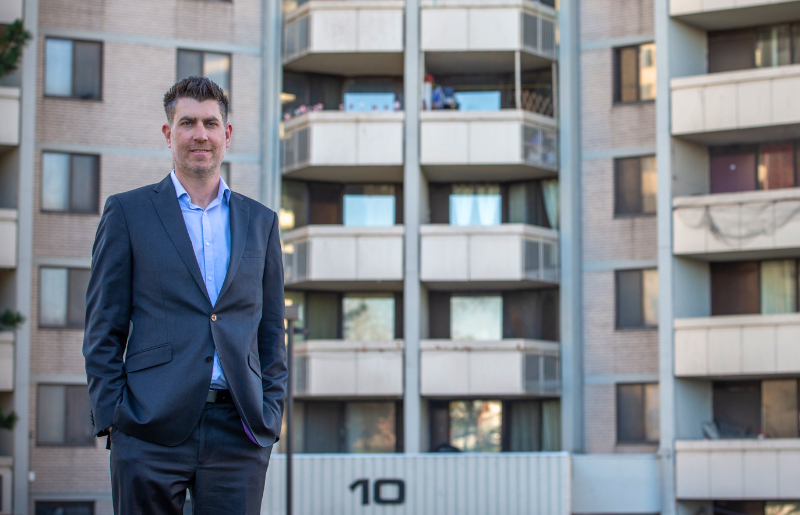 Dan Mack is general manager of RPMS Property Management Services Inc. He says SNAP's diverse environmental and socio-economic objectives bring diverse funding sources to the table.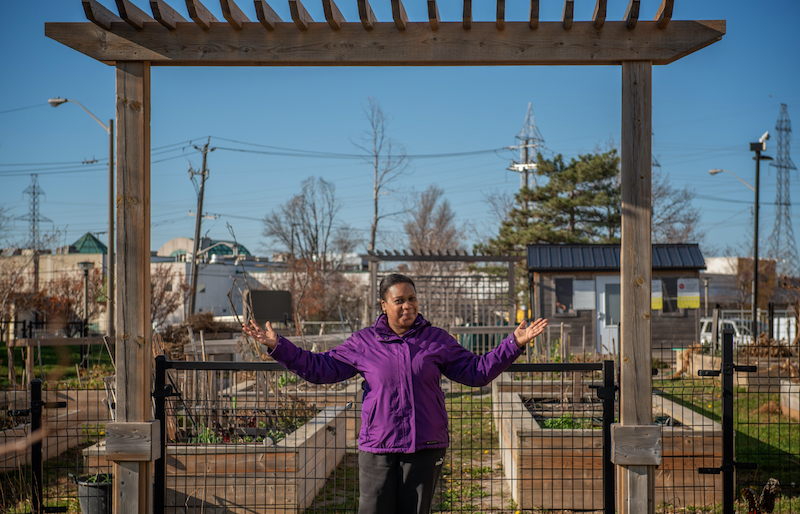 Long-time San Romanoway resident Cassandra Alexander says people from other areas ask how they can achieve something similar for their community.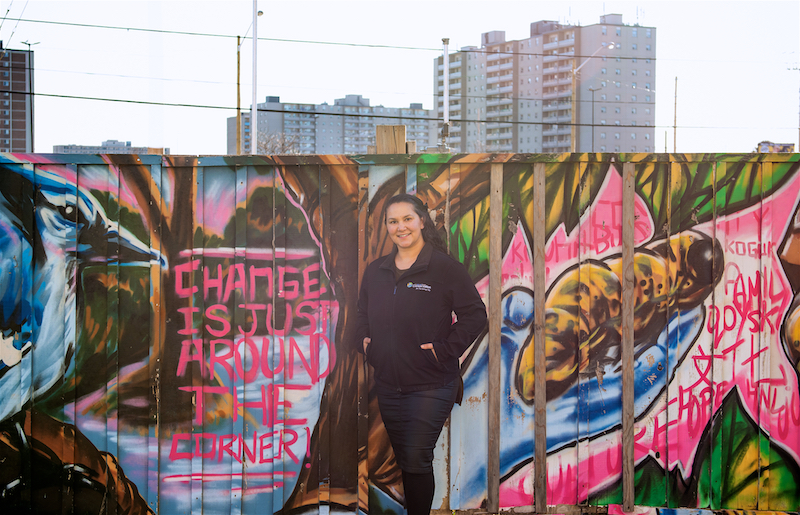 Neighbourhood resident Holly Shaw-Lopez coordinates SNAP projects with TRCA. She says projects like this foster inclusion and connect people to their community, not just their tower.
Community revival offers model for older apartment buildings
An aging residential tower complex typical of the 1960s era has seen its large sprawling lawns of underutilized space transformed into an urban oasis. It's a place that residents are proud to call home and is serving as a model for older apartment buildings.
"We're proud of what we're achieving in this neighbourhood," says Cassandra Alexander, a long-time resident of the San Romanoway Towers. "People from other places come and ask how can they get something like this in their community. You get a lot of people asking, how can I get a spot in here? What do I have to do? Where can I sign up?"
It wasn't always that way, notes Adriana Gomez, a senior program manager with Toronto and Region Conservation Authority (TRCA). "The Jane-Finch neighbourhood used to have a very bad reputation. At one time it was considered to be the worst place to be a child in North America."
This and other factors made the San Romanoway Towers an ideal site for rehabilitation under TRCA's Sustainable Neighbourhood Action Program (SNAP). SNAP brings together a diverse range of partners to revive residential towers and the surrounding area. Projects are selected with the intention that they will become demonstration sites, where new approaches are tested and lessons learned are shared with others.
"In the 1960s, residential towers were built with a lot of underutilized space around them, which disconnected tenants from nearby parks, services and other residents," explains Adriana. "Investing to improve the environmental sustainability of these communities can also improve the lives of residents in many ways. We're not only addressing housing issues, but many, many environmental and economic objectives as well. It's an overwhelming task for tower owners, which is why it's important to involve as many partners as possible to share the risks and rewards."
The San Romanoway rehabilitation involved multiple initiatives. A vegetable garden was installed for tower residents, as well as a fruit orchard and pollinator garden. Thousands of trees were planted and public parks were revitalized, giving community members more opportunities to enjoy nature. A rainwater harvesting system captures water for garden and landscape irrigation purposes.
"The agriculture component was really important to me," says neighbourhood resident Holly Shaw-Lopez. She was hired early in the project and is now coordinator of SNAP Projects with TRCA. "A community that sows together grows together. It is really beautiful to see what happens when people work together in gardens. Biases come down when you are planting and growing – you start to learn from each other. And this leads to people working together in other ways."
Contractors guided the outdoor rehabilitation projects, with interested residents given specific tasks to complete. Adriana notes that this approach has boosted the sense of ownership residents feel with the exterior spaces. Today, residents manage all the gardens and other spaces, with minimum support from the on-site property manager.
"Our most important partners are the tower residents, especially those who take on 'champion' roles," says Adriana. "They play a fundamental role in getting others involved – they are the eyes of the project. We spent a lot of effort building their capacity."
The #NationalHousingStrategy is showcasing the transformation of the San Romanoway Towers in Toronto. The units are retrofitted, and the buildings are surrounded by a new urban oasis. It's a place residents are proud to call home.
The rehabilitation project also included physical retrofits of the towers to reduce energy and water consumption by residents. All common areas in the towers were upgraded to LED lighting. High-efficiency toilets and low-flow showerheads were installed, and windows and elevators were upgraded in some towers. A new combined heat and power cogeneration system installed in the tower at 10 San Romanoway creates about 60% of the electricity required in the building.
"Tower revitalization does not only include physical retrofits but also community building and socio-economic development," says Dan Mack. Dan is the general manager of RPMS Property Management Services Inc., which operates 10 San Romanoway. "This can be very complex and it's why the SNAP program is so intriguing. By achieving diverse environmental and socio-economic objectives, SNAP is able to bring diverse funding sources to the table so that all stakeholders can see the benefits in the project."
The project also offered job training, social enterprise and income opportunities for local residents. Some residents received carpentry training and built outdoor furniture for the property. Others were trained in fruit tree care and now work together as the stewards of the orchard. And for those interested in further expanding their skills, urban agriculture and horticulture training was provided.
"We've seen a big impact in terms of community cohesion," says Holly. "People have more positive impressions of their neighbourhood. They feel safer and are spending more time outside, which is good for their mental health. They are eating better and reducing the demand on food banks. This is a big win in a neighbourhood that was considered a food desert. This is one of the key benefits of SNAP's use of a neighbourhood approach. It's not just about the tower residents – projects like this foster inclusion and connect people to their community, not just their tower."
The success of the San Romanoway Towers Revival Project has caught the attention of other property owners. TRCA has hosted everyone from students at Centennial College to public servants from the Netherlands and from local municipalities like Peel Region, Peterborough and Hamilton.
"A few times residents themselves have led the tours," says Holly. "They take a lot of pride in showing their homes and outdoor areas like the pollinator garden."
TRCA has developed a suite of tools and resources to demonstrate the success of the multi-year project, including a final report. These resources are available on the TRCA's micro-site for the San Romanoway project.
Rehabilitation of the San Romanoway Towers is part of TRCA's Black Creek SNAP. The project received funding from Canada Mortgage and Housing Corporation's Demonstrations Initiative. This National Housing Strategy program showcases innovative practices, technologies, programs, polices and strategies with a goal to improve the performance, viability and effectiveness of affordable housing projects. The project also received significant support from the City of Toronto, Real Property Management Services and numerous social service agencies, businesses and private donors.