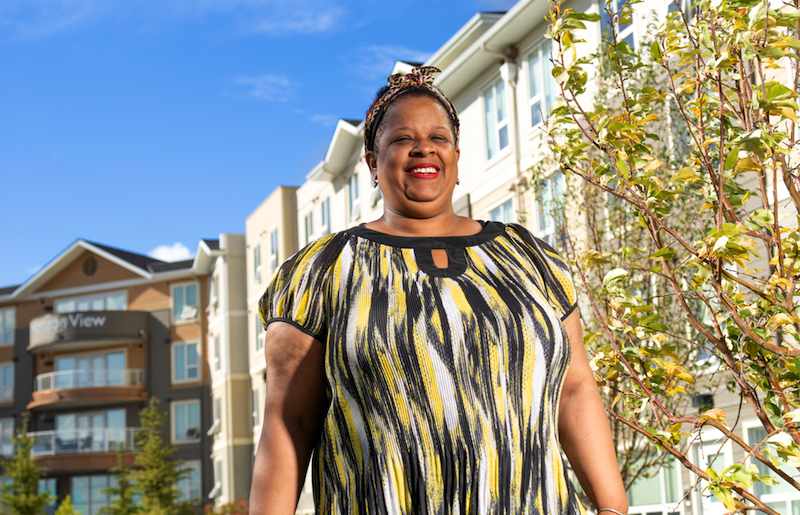 Briana is recovering from issues with her mental health and found a stable, supportive and affordable place to call home at Horizon View in Calgary.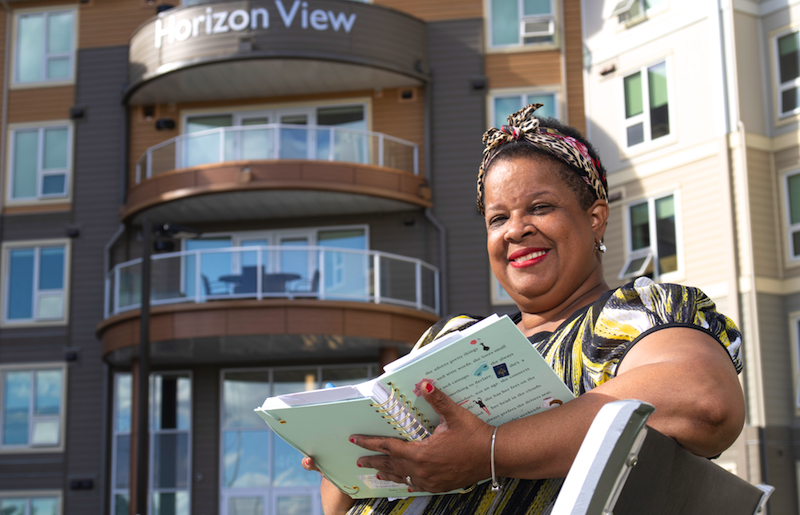 Briana now has more time to focus on the things she loves, such as journaling.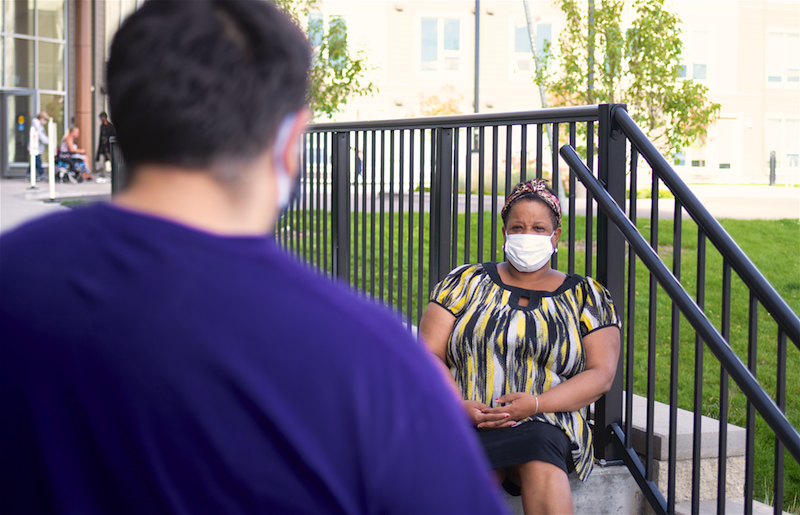 While the pandemic has changed Briana's schedule she still meets with friends once a week, following social distancing guidelines.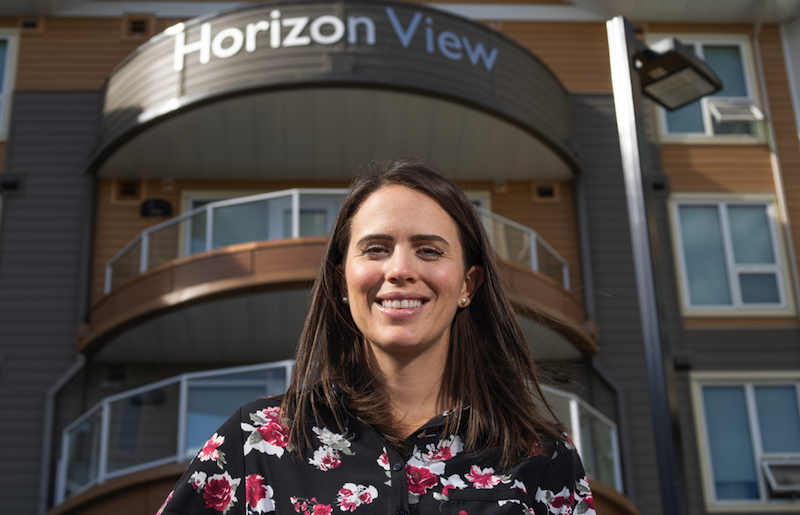 Arianne Brady is director of stakeholder relations, Horizon Housing. She says Horizon View was purposely-designed to accommodate people in a range of circumstances such as those experiencing mental health challenges, at-risk youth and households that simply can't afford market rent.
New development helps Calgary resident navigate mental health challenges
Eighteen months ago, Briana faced an uncertain future. She was recovering from mental health issues and about to be released from hospital. Yet, the long-time Calgary resident and graduate of the University of Calgary had no idea where she was going to live.
Today, Briana's life is dramatically different. She looks out onto a wonderful view of the Rocky Mountains from the apartment she calls home. It's a place where she feels safe, supported, has rekindled her interest in artistic pursuits and has new hope for the future.
"I had become overwhelmed by personal tragedies and hardships," recalls Briana, who experiences bipolar disorder. "I had experienced the death and loss of several friends and family members in a short time, and I just wasn't able to cope."
Overcome with grief, her mental health deteriorated. She stopped eating and caring for herself. Eventually, Briana was admitted to hospital where she was able to access the professional support she needed to begin her recovery. As her mental health improved, a new concern came to the forefront.
"When I was in the hospital, I didn't know where to begin to look for housing," she recalls. "My social worker found a spot for me at Roberts House, a supported housing residence where I lived for 8 months. I learned life skills and how to motivate myself for the future. Then I moved to a satellite house for women for another 8 months. I did so well there my social worker recommended I look into Horizon View."
Welcome to Horizon View! Located in Calgary, this 210-unit building includes supportive housing for people with mental health challenges.
Horizon View is a 5-storey 210-unit building, located in the neighbourhood of Glamorgan. A portion of the building's affordable rental units are allocated to people experiencing mental health challenges. Opened in November 2018, it's owned and operated by Horizon Housing, an organization established by several board members of the Canadian Mental Health Association (CMHA) in 1976. Horizon's mission is to provide stable housing for people with mental health and other challenges.
The building offers 1-, 2- and 3-bedroom apartments, as well as 3-bedroom townhomes. Twenty-two units are accessible and 10 are adaptable for residents with mobility challenges.
"We still have a significant partnership with the CMHA but we also have partnerships with more than 35 other groups across the mental health and social services sectors," explains Arianne Brady, director of stakeholder relations at Horizon Housing.
"Horizon View was purpose-built to reflect the needs of people in a range of circumstances," she continues. "This can include people experiencing mental health challenges, at-risk youth and households that simply can't afford market rent. What works really well is that we take care of the bricks and mortar and our partners provide the supports, such as mental health programs and brain injury recovery services."
As an example, the building includes a group-home style 'pod' with round-the-clock care provided by the Universal Rehabilitation Service Agency. Here, children with complex medical needs receive the care they need in homes within the community. Other service agencies also have offices and dedicated space in the building.
"Horizon Housing is phenomenal," says Briana, who has worked in various communications roles and is an artist at heart. "When I handed over my rent deposit I knew I was home. I have a beautiful apartment and I feel very safe here. I've made friends and started to paint again. I also do a lot of journaling, drawing and reading. I cook a lot and share it with friends in the building."
Throughout the COVID-19 pandemic, Horizon Housing has worked with partners to maintain support services and programming wherever possible. Like all Canadians, Briana has felt the impact of the virus.
"I used to meet with a living support coordinator once a week," she says. "But with COVID, it's now down to once every 3 weeks by phone. I also try to get together with friends in the building once a week, following social distancing guidelines. With all the restrictions in place, it can be a little depressing. Because I'm bipolar, I have to be really aware when my depression hits so I can focus on exercising and eating right. I don't go out as much because of COVID, but I still try to get a walk in every morning."
With a stable, affordable place to call home, Briana has been able to continue her recovery and return to the interests and passions that bring her joy. She's also had time to start planning for the future.
"In 2 or 3 years, I hope to have enough money saved to start travelling again. And eventually, I'd like to find a job I enjoy and move into a townhome with more space, so I can get a dog."
Horizon View is a 2-phase project. Phase 1 was one of the first projects approved under the Rental Construction Financing initiative, a National Housing Strategy program. It also received significant support from the Government of Alberta, the City of Calgary, community philanthropists through the RESOLVE Campaign, and numerous community partners. Horizon Housing currently provides affordable, integrated and supportive homes to more than 1,100 low-income families and individuals in Calgary.