Architectural grad helps develop housing solutions
March 31, 2022
AT A GLANCE
The Canadian Association for Community Living estimates that between 100,000 and 120,000 adults with developmental disabilities face gaps related to their housing and support needs.
Edmonton's Skills Society stewarded The Future of Home Solutions Lab to address the gaps in housing for people with developmental disabilities.
24-year old Levi Lawton spent 5.5 months in hospital due to a lack of suitable housing. He is using his architectural knowledge and lived experience to help the lab team develop inclusive and affordable housing solutions.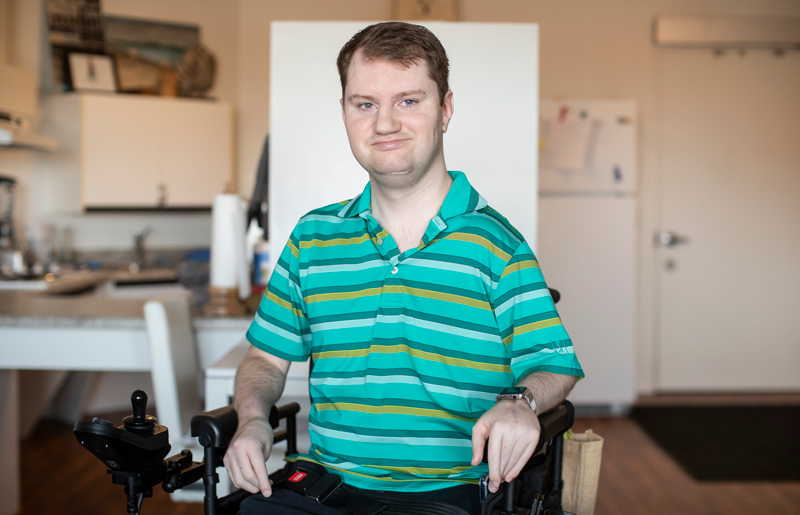 "It's been tough and it needs to change for other people."
24-year old Levi Lawton is like many young adults. He likes to watch Netflix, is a frequent visitor at his local Tim Horton's and he likes to enjoy Alberta's great outdoors, when it isn't snowing. He also has a passion for design that led him to explore architectural courses at the Northern Alberta Institute of Technology.
Unlike many young adults, Levi lives with a developmental disability. He also uses a wheelchair and has unique accessibility needs. This has made it extremely difficult for him to find suitable and accessible housing.
My mom and I both knew that she couldn't continue to take care of me. It's too much for her, both mentally and physically. Plus, I really wanted my independence.
Four years ago, Levi found himself in the hospital with a broken kneecap and on a 2 to 5 year waiting list for housing that would meet his accessibility and support needs. Ready for discharge, but with nowhere to go, he waited almost 6 months before finding a new place to call home.
Almost 30,000 adults with developmental disabilities are living in congregate residential facilities and group homes.
More than 13,200 with developmental disabilities aged 30 and older live with their parents because they do not have the resources or community support to live in their own homes.
An estimated 10,000 adults with developmental disabilities under the age of 65 are living in hospitals, nursing homes or long-term care facilities because they cannot access affordable housing or necessary supports.
"Not to feel sorry for myself, but I cried myself to sleep because I didn't know where I was going to go," says Levi. "My mom and I both knew that she couldn't continue to take care of me. It's too much for her, both mentally and physically. Plus, I really wanted my independence."
Levi's mother Amanda worked fearlessly to find suitable housing for him. She visited group homes and even seniors homes. Due to a lack of inclusive housing, seniors homes are one of the few options for young adults with disabilities.
"It didn't feel like the right environment for a young man in his early 20s," says Amanda.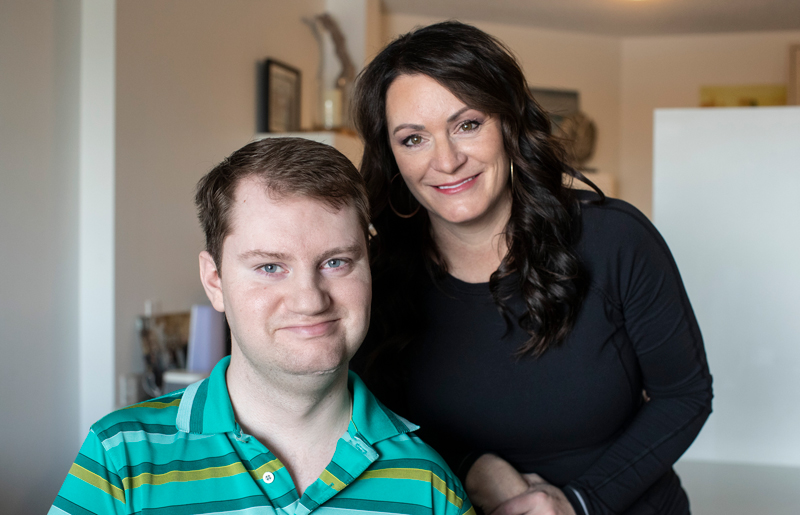 Amanda and Levi explored many avenues and even met with a former Alberta minister. Frustrated and exhausted, Amanda left the hospital one night to attend a Western Canada Fashion week event. One of the models was local Edmonton legend, Bean Gill, Miss Wheelchair Canada 2018. Realizing that Bean and the other models must have similar housing needs to Levi, Amanda approached Bean.
The chance encounter resulted in Levi securing an apartment at Artspace, a co-operative housing development offering accessible units.
Amanda also pushed for funding and supports for Levi to ensure he received the care he needed.
Levi now receives support from Skills Society, a non-profit organization providing supports and services for more than 350 people living with developmental disabilities. A team member regularly stops by to help Levi with tasks such as grocery shopping as well as setting up medical appointments.
Beyond supports — re-thinking housing design
Skills Society is one of the oldest and largest disability rights and service organization in the Edmonton area, and it's always striving to do more for people like Levi. The non-profit is committed to finding innovative ways to support marginalized community members and help them live rich, inclusive lives.
The group also strives for broader systems change. Having spent years honing their problem-solving processes, Skills Society created Action Lab. Using a rentable space, Action Lab uses systemic design approaches to co-create and design solutions with community.
Action Lab's most recent project is The Future of Home Solutions Lab. The Lab is led by Skills Society, in partnership with Inclusion Alberta, Civida (formerly Capital Region Housing), and Homeward Trust.
Paige Reeves is Senior Leader of Research and Social Innovation at Skills Society. She was also one of the project stewards for the Solutions Lab.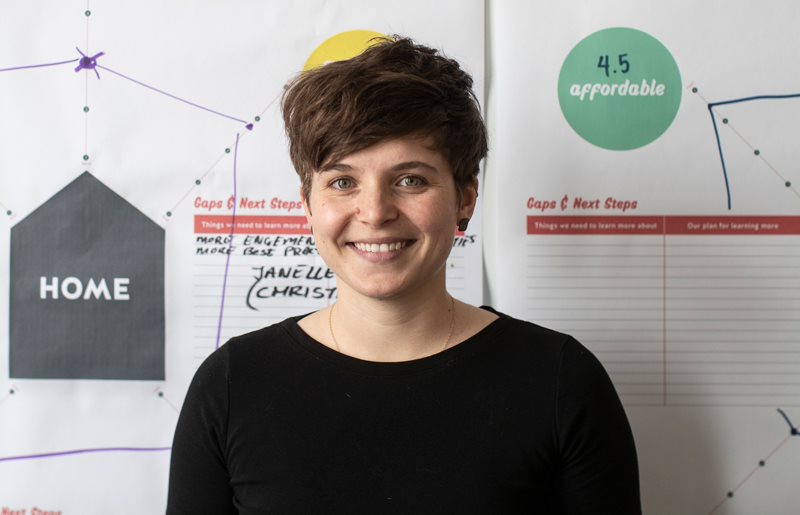 "What really attracted us to doing a social innovation lab was its ability to engage folks who experience disability and the challenges we are trying to solve. It also creates space for multiple voices to come together to solve big challenges."
Two core teams of developers, architects, designers, people with disabilities and support workers were tasked with creating and designing a prototype. The design incorporated a physical space and the support models that would complement that space.
The Scattered Site Team's design targeted people with complex service needs, including those who might be in and out of hospital or experiencing homelessness.
The Shared Community Team looked at alternatives to what is often referred to as a group home model, where 3 or more people with disabilities live together as roommates and share supports.
What really attracted us to doing a social innovation lab was its ability to engage folks who experience disability and the challenges we are trying to solve.
The teams conducted on-site interviews with people with lived experience, their allies, family members, service providers and project developers. This enabled the teams to gain a deeper understanding of the housing challenges for people with developmental disabilities.
When each team had completed their interviews, they brainstormed ideas and creative solutions. The most promising solutions were distilled into a prototype.
The Scattered Site Team designed a multi-unit, multi-family apartment building with amenities on the main floor. In response to a strong need for community building, the team developed the idea of a Community Concierge.
"The concierge would be a touch point for all residents in the building," says Paige. "But they would pay particular attention to the folks with disabilities in the building. They may also arrange community building activities to help bring residents together and bridge connections."
As one of the core teams put it, we are not just designing a building, we are designing a way of living.
The Shared Community Team developed a prototype for multi-generational housing, that included shared spaces and opportunities for community connection in gardens and kitchens.
"As one of the core teams put it, we are not just designing a building, we are designing a way of living," says Paige.
One of the biggest challenges the teams experienced was designing housing that hit all 3 goals—affordability, accessibility and inclusivity.
"It was really difficult not to make a trade-off," says Paige.
"If you make it affordable, it will be less accessible because the accessibility features can cost a little more. And if you want the building to be in a central location, then it's less affordable."
Path to a housing prototype
The teams took their prototypes to a number of community members for feedback.
Levi provided feedback on the Shared Community model. He offered humorous and insightful input as to the ideal, and not-so-ideal places to foster community.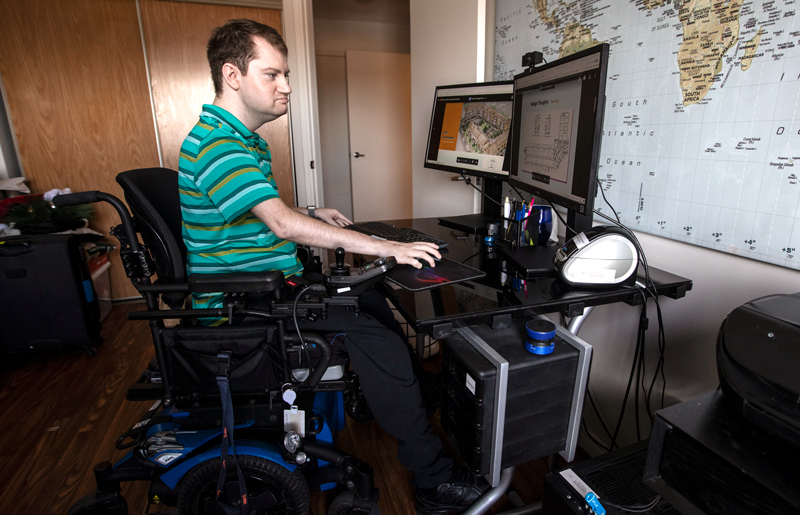 "I'm okay with having a coffee bar or something, but you don't want to watch your neighbour do their laundry."
He also offered ideas based on his experiences using a powerchair, including raised countertops and a walk-in shower.
A promising model
When the feedback process was complete, a smaller stewardship team merged the 2 prototypes into a single design for inclusive apartment-style living for people with disabilities.
Keen to see the model become a reality, Skills Society completed a feasibility assessment and plans to collaborate with a developer on a pilot project.
Levi would love to live in a place like the one being envisioned and through his architectural work will continue to explore ways to make buildings like this a reality.  
Through his continued advocacy for people with disabilities, he also hopes to foster a better understanding of the need for inclusive communities.
"I hope that after the pandemic people will realize how important health care is and how important it is to look out for each other."
KEY FACTS
The Future of Home Inclusive Housing Solutions Lab received funding from Solutions Lab, a National Housing Strategy initiative.
The goal of this National Housing Strategy initiative is to develop world-leading solutions to complex housing problems that will contribute to the Strategy's key priority areas.
The Solutions Lab team produced a variety of tools and reports including a primer document, mini documentary, and evaluation report, all of which can be found on the Skills Society website.
SEE ALSO