Former homeless veteran finds peace at new development
AT A GLANCE
For several years former weapons technician Bill Beaton drifted from job to job, experiencing health issues, opioid addiction and homelessness
Representatives from Soldiers Helping Soldiers found Bill living in a shelter
Bill shared his story with Suzanne Le of the Multifaith Housing Initiative to raise funds for the construction of Veterans' House: the Andy Carswell Building and Canso Campus
Now a resident at Veterans' House, Bill has turned his attention to helping others in a similar situation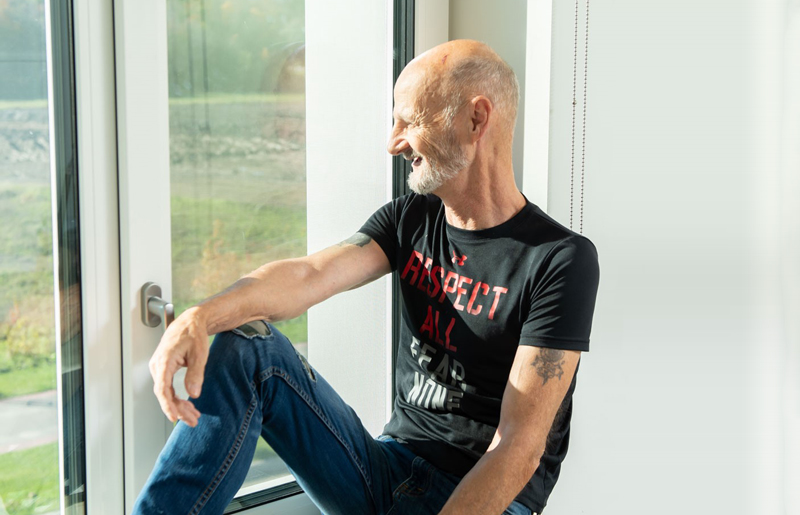 Bill Beaton looks out of his window at Veterans' House: the Andy Carswell Building in Ottawa onto the Peace Garden. Seventeen types of trees rustle in the wind. It's a scene he is very grateful for and stands in stark contrast to the rest of his life.
As a child Bill moved from one foster home to another. At age 14, in the dead of winter, he ran away. "I got frostbite in my hands and feet," says Bill, not realizing the impact this would later have on his career.
For the next 6 years he travelled back and forth across Canada, picking up jobs here and there and developing a strong sense of Canadian pride.
At age 24 he found himself in Toronto with no money, a Grade 9 education and few job opportunities.
Canadian pride leads to military career
"I thought about going overseas," says Bill. "One of the ways of doing that was joining the military and serving your country."
The frostbite he suffered years earlier ruled out the army, so he joined the Canadian Air Force. As a weapons tech Bill spent the next 7 years working on everything from pistols to nuclear warheads.
"I ended up in Comox for 5 years. Beautiful spot," says Bill. But there were struggles. He had a difficult relationship with a senior ranking official. So, when he saw an opportunity to get posted to Germany, he took it. Bill's girlfriend was also in the military and they married to strengthen their chances of being posted together. Ultimately, they ended up in Quebec where Bill once again crossed paths with the same senior ranking official.
"I thought, there's no way I'm going to get any higher than this guy, there's no way I'm getting off to Germany now, so I guess it's time to get out."
Post-military life a struggle
Bill started a new career in insurance sales, moving whenever his wife was posted to a new base. He held positions with a car dealership, an executive recruitment firm and eventually managed a couple of shopping centres.
The couple had a daughter and his wife's career flourished. She travelled the world supporting Prime Minister Brian Mulroney while Bill struggled to balance parenting, work and a long-distance relationship. His mental health suffered and after a period of growing and selling pot, he ended up in jail.
It's hard to get a job when you give a shelter address.
Eight years after leaving the military, Bill and his wife divorced. He moved to Ottawa and experienced homelessness.
Bill spent a year in a shelter and got to know everyone. He started selling pot again.
"You become institutionalized. It's almost like being in the military."
He wanted to leave but struggled to find work.
"It's hard to get a job when you give a shelter address."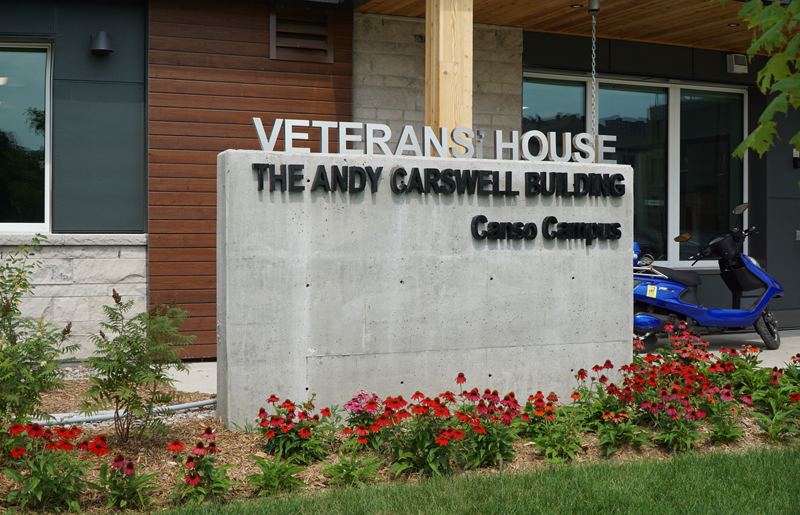 Eventually, he found a room. "It was a tiny, little, dinky room," says Bill.
"The door had a crack about an inch and a half all the way around it. I had to stuff a blanket in there to stop the wind from coming in and blowing out the pilot light on my gas heater. Of course, my bed was right in front of the door. When winter came, I caught pneumonia."
Bill says he spent 10 days in a coma and over the next year his health further deteriorated. He was prescribed opioids for pain management.
While in jail for selling pot once more, Bill did not have access to his medication and suffered a life-threatening heart attack.
The cycle of pot selling, jail and opioid use went on for years. Then, one day while back in the shelter, he met some volunteers from Soldiers Helping Soldiers.
Regaining a sense of pride
"Ah. Those guys are awesome," says Bill, struggling to hold back emotion. "They're soldiers that are actually serving right now and they take time out of their own schedule to go down to shelters and they look for homeless vets. They took me out of the shelter and put me in a motel room."
The soldiers helped Bill look for an apartment, and he started going to the drop-in centre on Montreal Road. "They gave me a lot and helping out at the drop-in which brought back a little bit of pride, you know?"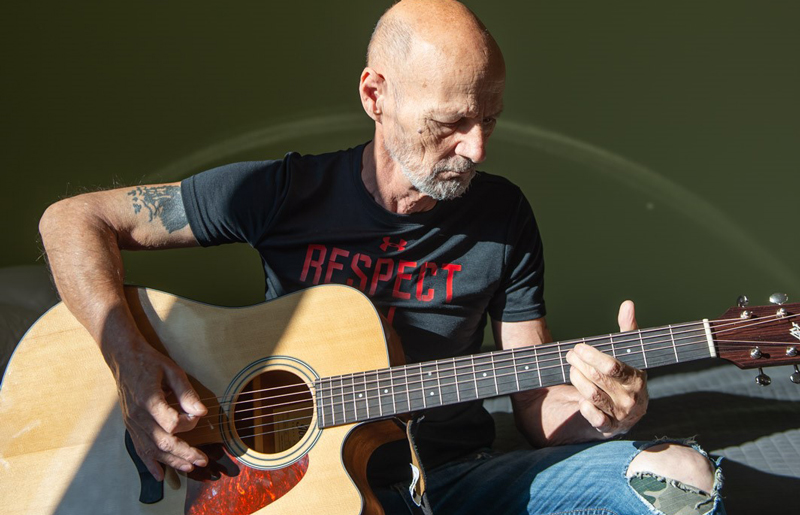 Then he met Suzanne Le, executive director of the Multifaith Housing Initiative. She was inspired by Bill's story. Suzanne and her team were already working on a first-of-its-kind housing development for veterans, and she asked if he would like to help.
"Of course!" said Bill.
From the start, Bill was outspoken about the need for the creation of Veterans' House.
He volunteered to help raise funds for Veterans' House without knowing if the project would come to fruition or if he would be offered an opportunity to live there.
"From the start, Bill was outspoken about the need for the creation of Veterans' House and was very helpful in lending a veteran's perspective whenever the media came calling for an interview during our fundraising period," says Suzanne Le.
"It was instrumental to have a veteran available who was brave enough to share his story of experiencing homelessness and push for the creation of the Andy Carswell Building, not only for himself, but also for his fellow veterans in the city in need of supportive, permanent housing."
One of the first through the door
The fundraising was a success and Veterans' House was completed in early 2021. Bill applied right away and was one of the first veterans to move in.
"I don't even know where to start," says Bill. "I have a home again."
Veterans' House is designed to reflect the military's culture and values while maintaining a non-institutional feel. Supports and services encourage both rehabilitation and connection. These include on-site counselling, a communal kitchen, a gym, vegetable garden and a dog park where veterans who have service dogs can spend time training their pets.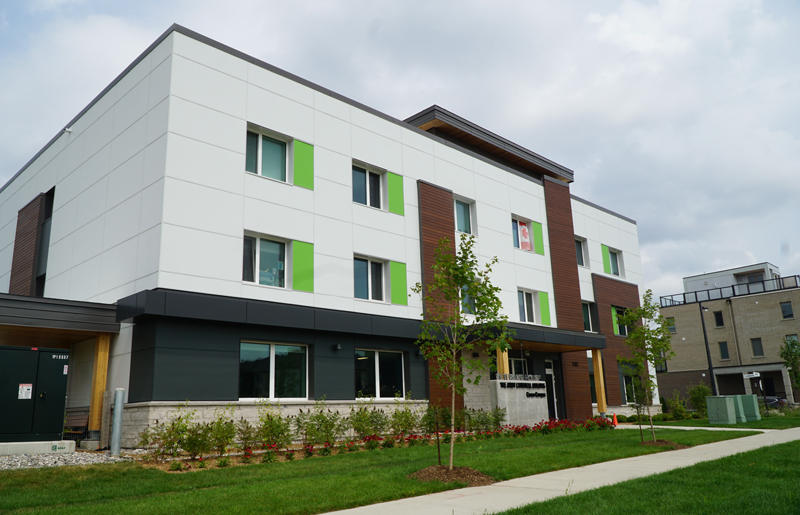 "They put a lot of thought into this place," says Bill. "You look around at people who have been here a couple of months and there's something different. They have hope. I really hope they make it a model."
After many years of struggle, Bill is taking things day by day. He can't work because of chronic pain but is learning to play the guitar, is teaching himself Photoshop and visiting shelters to help other veterans who find themselves in similar situations to his own.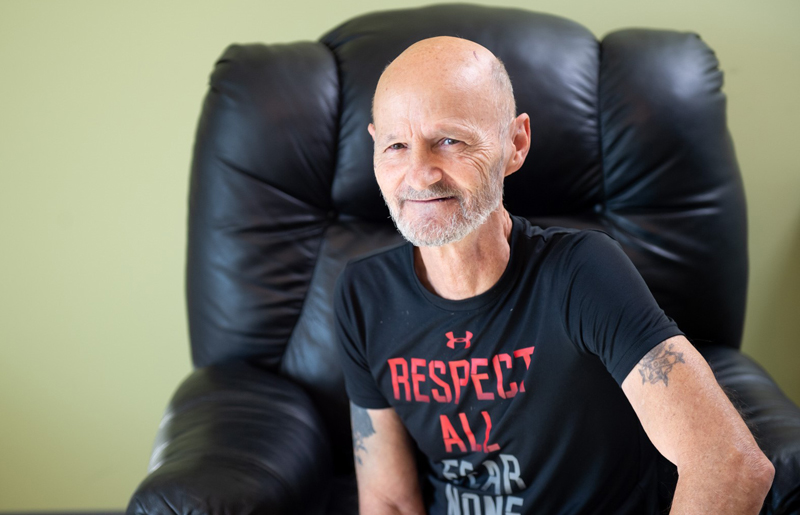 "Finding homeless veterans is hard," says Bill. "You don't go through some of the stuff that these guys go through without having some kind of pride."
When Bill meets other homeless veterans there's a mutual understanding.
"They sit a little taller, because you got something in common here."
Reflecting on the darker moments of his journey, he believes there's a reason he is still here.
"I'd like to see everybody out of this."
KEY FACTS
Veterans' House: the Andy Carswell Building is funded through the National Housing Co-Investment Fund, a National Housing Strategy Initiative.
The 40-unit project provides affordable, supportive housing for homeless veterans in Ottawa.
Nine units are fully accessible, and the remaining 31 units meet universal accessibility standards.
On-site counselling and support services are provided by Ottawa Salus.
Through PassivHaus design, Veterans' House: the Andy Carswell Building will achieve a greenhouse gas emissions reduction target of 60.3%
MORE INFORMATION