Architects dedicated to apartment tower rehabilitations
November 15, 2021
AT A GLANCE
Architects Graeme Stewart and Ya'el Santopinto are helping to save Canada's aging apartment towers
Their most ambitious retrofit to date is the 18-storey Ken Soble Tower in Hamilton, Ontario
They also contributed to the development of a Field Guide to Tower Retrofits in Occupied Buildings to help apartment owners, the construction industry and residents navigate retrofit construction projects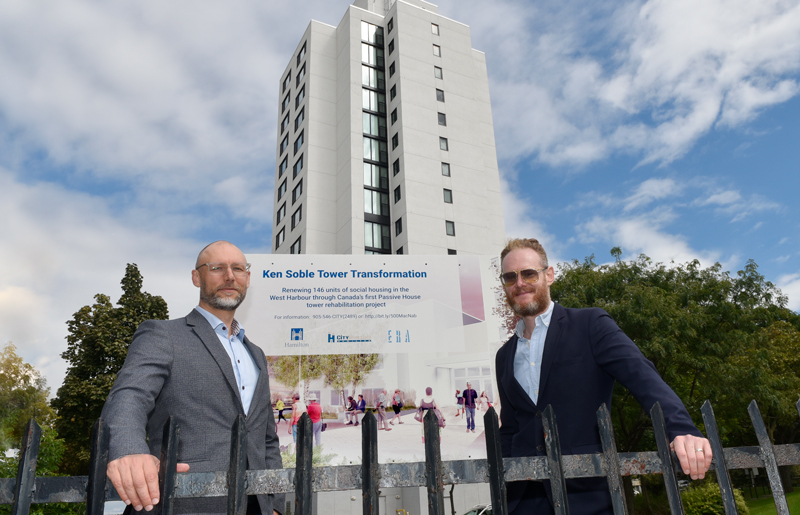 "We just can't afford to lose this housing."
There are many reasons to support deep retrofits of Canada's aging stock of purpose-built apartment buildings, but perhaps these words from Graeme Stewart make the case most concisely. They also help explain why Graeme, a principal at Toronto-based ERA Architects, and Ya'el Santopinto, the firm's lead tower renewal architect, have devoted their careers to this work.
A "deep retrofit" is a project that involves undertaking multiple energy efficiency or renewable energy measures in an existing building to reduce its energy use by 50% or more.
"When you go to different Canadian cities, you see these older apartment towers and they kind of just blend into the landscape," notes Graeme. "But when you look at them as a whole, they are the product of a period of enormous building in the 1960s and '70s. Canada was developing extraordinary numbers of affordable homes during that period. That all stopped in the late 1970s and early '80s."
Some 40 years later, those towers continue to provide affordable housing for about 2 million Canadians. In the meantime, Canada's population has tripled. As a result, Graeme says, "the stock of available purpose-built rental apartments relative to the size of our cities is totally out of whack."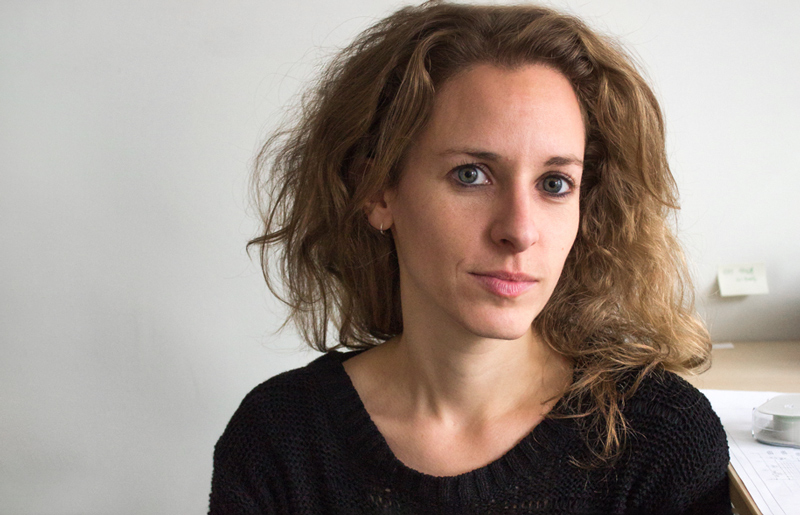 Rehabilitating buildings to meet affordability, quality and climate targets
Adding to the problem is that much of this ageing housing stock needs critical repairs. Postwar apartment towers are big energy users and a significant source of greenhouse gas emissions. They were not built to withstand the severe weather events anticipated due to climate change. And the COVID-19 pandemic has underscored the need for healthy housing with up-to-date ventilation systems.
Bring all these factors together, says Graeme, and it's clear that strategies are urgently needed to support the preservation, modernization and low energy retrofit of Canada's ageing housing stock.
"We are already taking buildings that have failed and bringing them back through rehabilitation," notes Graeme. "But we feel strongly that there is a critical opportunity to invest in these buildings before they fail. This will maintain affordable housing for thousands of families but also help us meet our climate targets, our resilience targets and post-pandemic housing quality expectations."
Apartment tower renewal requires 'forensic' approach
ERA Architects has, in fact, been advocating and working on tower renewal approaches and projects for more than a decade.
"We've developed a specialized unit within our practice that focuses on multi-unit residential housing retrofits," explains Ya'el. "We've also developed a network of mechanical and structural engineers who are specialists in this type of project."
Retrofits in older apartment buildings require a 'forensic' approach, notes Ya'el. "There are a number of 'known unknowns' that you need to be ready for. It requires unique expertise to do cost-effective, minimal disruption design approaches in these buildings. Together, we've rehabilitated more than 1,500 units of affordable housing in apartment towers over the past 5 years."
Together, we've rehabilitated more than 1,500 units of affordable housing in apartment towers over the past 5 years.
The decision to focus predominantly on retrofits makes ERA rather exceptional in Canada's architectural industry. "We are really passionate about existing places, about their history and cultures," says Ya'el. "We come into projects listening to the people who live there, to learn about their neighbourhoods and homes. In that sense, our practice is not about capital 'A' architecture. Our practice is about making existing places safer, healthier and generally bringing them up to the standards of the 21st century. But we go in with the attitude that these are already fantastic places, and we need to find ways to keep them vibrant and ready for the challenges of the 21st century."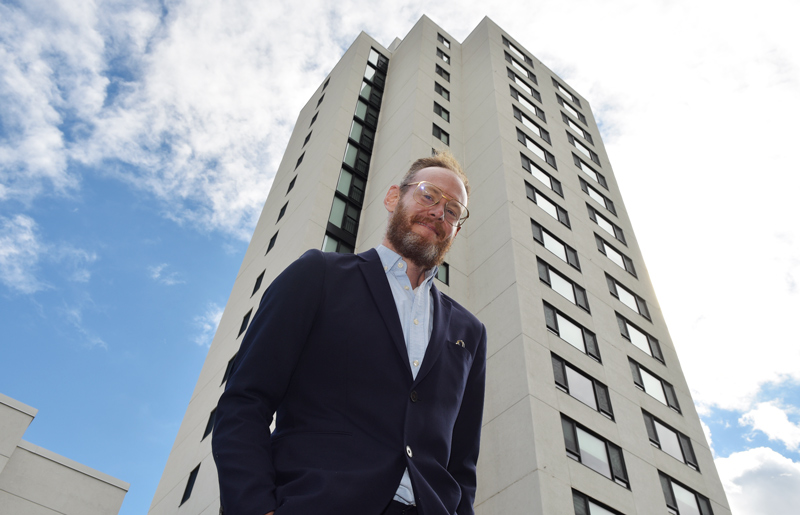 Balance of field practice and research required to move the needle
To support this work, Graeme was the driving force behind the establishment of the Tower Renewal Partnership, for which he continues to serve as a director. This non-profit initiative aims to transform postwar towers and their surrounding neighbourhoods into more sustainable, resilient and healthy places. It brings together best practices in energy retrofit, planning policy, green financing and social entrepreneurship to build more complete communities in tower neighbourhoods in the Greater Toronto Area and beyond.
One of the key collaborators behind the Tower Renewal Partnership is the Centre for Urban Growth and Renewal. This non-profit research organization's mandate is to engage in cross-disciplinary research on livable and sustainable environments. In addition to her role at ERA Architects, Ya'el serves as the Centre's director of research and partnerships.
"That is where a lot of our applied research comes from," acknowledges Graeme. "You need to achieve that balance between field practice and applied research to really move the needle."
Tower retrofit guide helps construction industry and residents navigate the process
To that end, the Tower Renewal Partnership recently developed a Field Guide to Tower Retrofits in Occupied Buildings. The Guide is designed to help apartment owners, the construction industry and residents navigate retrofit construction projects.
Retrofits in occupied buildings require a unique approach to minimize disruption. This includes rigorous communication with tenants and contractors, more complex planning and work scheduling and specialized training for contractors.
"You are walking into someone's home, so there is a sense of respect and a desire to mitigate disruption in people's lives when you are doing this kind of work," says Ya'el. "That is our top priority."
"In the 2000s we toured Europe and realized many countries, especially Germany, have made amazing progress in tower retrofits over the past 20 years," says Graeme. "We've always been inspired by other jurisdictions that have achieved massive change. Now we are doing those things in Canada, which is fantastic."
We've always been inspired by other jurisidictions that have achieved massive change. Now we are doing those things in Canada, which is fantastic.
Graeme notes that work is ongoing to identify opportunities for Canadian manufacturers to develop energy-saving equipment that can be installed quickly and easily and deliver high performance with less disruption. "There is a lot of innovation taking place in the sector and this guide is just kind of setting the table for that innovation."
Ken Soble Tower most ambitious and successful retrofit to date
While Graeme, Ya'el and their team have undertaken dozens of postwar apartment retrofits over the past decade, the pinnacle of their success to date is the Ken Soble Tower in Hamilton. The 18-storey building is owned by CityHousing Hamilton. Three years ago, the 146 units of seniors housing had failed to the point where the building had to be vacated.
Following a deep retrofit by ERA, it is now a net-zero building—the only one of its size in North America to meet the standards for EnerPHit passive house accreditation.
We needed a design approach, not just an equipment approach.
Working on a completely vacant building enabled ERA to strip it down to its bones. They also had the benefit of a partner eager to explore the potential for a deep retrofit rather than sell the property or demolish it and rebuild.
"We needed a design approach, not just an equipment approach," says Sean Botham, senior development project manager with CityHousing Hamilton. "We were familiar with Graeme and Ya'el's work on tower renewal and their experience with deep retrofits, so we asked ERA to conduct a feasibility study. This became the basis for pitching a deep energy-efficiency retrofit to funders to enable this work."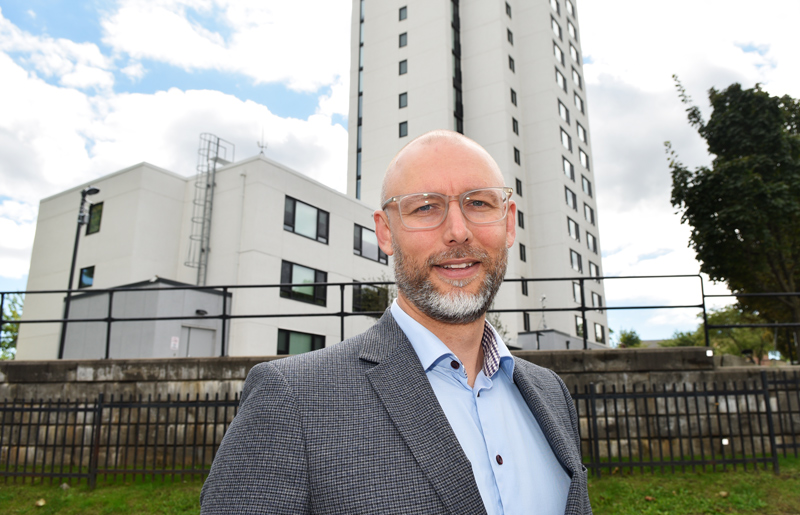 Based on initial cost estimates and indications of interest from funders, CityHousing Hamilton's Board of Directors approved the project. ERA's team was secured to lead this transformative project.
"The design and construction processes were quite quick," says Ya'el. "If you had taken a building like this, torn it down and rebuilt, you would be looking at a minimum of 5 to 6 years. The construction of this building took 18-months, start to finish, which is quite aggressive. The design work itself was completed in 8 months."
The project included builders PCL and engineers Reinbold and Entuitive. It features several energy-related solutions targeting greenhouse gas reductions of more than 88%. A modernized ventilation system provides direct in-unit fresh air supply. The new cooling system is designed to prepare the building for the warmer climate predicted for 2050.
The rehabilitated tower also has a very air-tight building envelope separating the indoor and outdoor spaces. Upgraded components include new triple-glazed windows and 10 inches of mineral wool insulation. Other features include heat recovery for air and domestic hot water, and floorplans reconceived for aging-in-place and to encourage social gathering.
As a result of these measures, the total energy required to heat or cool each unit will be equal to the energy required to run 3 incandescent light bulbs (100W).  This is an 89% reduction in thermal energy demand compared to the pre-retrofitted building. Reduced operating costs from energy and maintenance savings will contribute to long-term affordability for residents.
The total energy required to heat or cool each unit in the Ken Soble Tower will be equal to the energy required to run 3 incandescent light bulbs (100W).
With the building scheduled for re-occupancy in the fall of 2021, the anticipated savings are only projections at this time. But Graeme and Ya'el have good reason to believe that Ken Soble Tower will meet the rigorous criteria for EnerPHit accreditation.
"We did a series of tests on the building towards the end of the construction," notes Ya'el. "We confirmed the construction meets and actually exceeds the targets. What we need to confirm next is how people will use the building and exactly what savings will be achieved."
The University of Toronto and CMHC are working on a post-occupancy study to monitor how the projected targets map out in real life. But the study will do more than measure things like carbon reductions.
"We will be doing a qualitative assessment over 2 years," says Ya'el. "We'll be speaking with residents, asking them how they feel about the accessibility measures, the aging-in-place measures. Do they feel safer? How comfortable are they on hot or cold days?"
Creating suitable and sustainable housing is the tip of the iceberg
Across Canada, other housing providers are looking to the Ken Soble Tower rehabilitation as an example of what can be achieved.
"Even in a European context, there aren't a lot of large buildings with the EnerPHit certification, so this is very ambitious," says Ya'el. "We are certainly breaking a lot of new ground."
With dozens of tower retrofits underway across the country Graeme and Ya'el are excited about the changes they are seeing.
"I think creating suitable and sustainable housing is just the tip of the iceberg," says Graeme. "Our intent for quite some time has been to have a new focus on housing preservation, on deep retrofit, on health-centred retrofits. That is all coming together now, because of new tools and programs like those available through the National Housing Strategy. It's a major milestone."
It seems certain that ERA Architects, with the passion they bring to each project, will remain at the forefront of this work.
Graeme and Ya'el were recently named to the Royal Architectural Institute of Canada's prestigious College of Fellows, recognizing their outstanding achievement in architecture and distinguished service to the profession and community.
In their minds, the work has just begun.
KEY FACTS
Graeme Stewart is Principal of Toronto-based ERA Architects, a founding director of the Centre for Urban Growth and Renewal, and the key initiator of the Tower Renewal Partnership.
Ya'el Santopinto is the Director of Research and Partnerships with the Centre for Urban Growth and Renewal, where she leads the Tower Renewal Partnership's research initiatives on transformative retrofits, affordable housing, green financing and community reinvestment.
The development of the Tower Rehabilitations Guide received funding from Solutions Lab, a National Housing Strategy initiative.
Rehabilitation of the Ken Soble Tower received funding support through the Affordable Housing Innovation Fund and the National Housing Co-Investment Fund, which are also initiatives of the National Housing Strategy.
The Ken Soble Tower project also received financial support from the Federation of Canadian Municipalities' Green Municipal Fund, the City of Hamilton and CityHousing Hamilton.